Selective Hearing: giving God your ear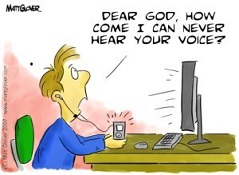 God's voice is something we all instinctively want to hear. There is nothing like sweet communion with the Lord and knowing His voice. The question is, "Are we seeking Him selectively?" and, Do we really want to hear ALL He has to say?
In 2 Timothy 4:3 Paul wrote,
"For the time will come when they will not endure sound doctrine, but according to their own desires, because they have itching ears, they will heap up for themselves teachers;" (NKJV)
He prophesied that a time would come when people would not want to hear the truth of God's Word. They would rather listen to teachers and preachers that support their selfish desires. These people do not want to grow into the image of Christ nor do they want to be told they should.
They say things like this:
"I don't like the Pastor. He was judging me for life choices. Only God can judge me."
"I want to listen to encouraging sermons. It's doesn't take all that to be a Christian. God doesn't care if I have sin in my life."
But that's not the only way you can have selective hearing. Selective hearing can influence your daily walk with Christ. You can be surrendered and obedient in many areas of your life, but there is that one "thing" or that one "person" that God is nudging you to give to Him. Yet, you refuse to listen. It's that thing Holy Spirit keeps putting His finger on in your heart.
Selective hearing comes from our focus being on one voice or other voices more than another in a certain part of our lives. Ask God where you have selective hearing in your heart and soul. He knows the root issue and will help you get rid of it.
Maybe it's –
Fear
Unforgivenness
Mistrust
Complacency
Rebellion
Pride
These things are keeping you from a strong and intimate walk with the Lord!
Jesus said in Matthew 11:15,
"He who has ears to hear, let him hear!" (NKJV)
You must CHOOSE to have listening ears – a heart and soul sensitive to His leading and His voice. It is a choice!
Instead of being selective towards God we can be selective towards the other voices we hear on a daily basis. We can make God's voice number one in our lives and our first selection every time.
This is a huge key to breakthrough! We can take responsibility for WHAT we hear and HOW we hear. Just because a thought comes to you, doesn't mean you have to embrace it.
"For the weapons of our warfare are not carnal but mighty in God for pulling down strongholds, casting down arguments and every high thing that exalts itself against the knowledge of God, bringing every thought into captivity to the obedience of Christ," 10:5 NKJV 2 Corinthians
So instead of choosing our way or the enemy's voice, over God's leadership in our lives, let's pursue Jesus wholeheartedly! I challenge you to give Him everything! Give Him your ear!
Ask God to forgive you for rejecting His voice in any area of your life and ask Him to make you sensitive to Holy Spirit! He will deliver you and cleanse you from all unrighteousness. He will restore you and help you walk closely with Him. Don't be afraid to hear God's voice, and respond to whatever He might ask of you.
There is NOTHING better than serving Jesus. Everything else is passing away. He has so many secrets He wants to share with you friend! Choosing to listen to His voice will change your entire world.
If you want to have a yielded ear and live in close fellowship with the Lord pray this prayer:
Father,
I ask that you would forgive me for ignoring and rejecting your voice in my life. I want to be obedient and walk in nearness with you! Cleanse me from all sin and expose every root keeping me from hearing your voice clearly. I choose to make you my primary selection! You are my God, my Lord and my King. Help me to lay down my desires for your own. Teach me how to be sensitive to your voice and give me a heart of obedient love. In Jesus name, amen!
You are forgiven! You are free! You are His yielded vessel!
Blessings
Yielded Vessels Ministries